Major funding for " Dong Kingman: Watercolor Master" 2002-2003 provided by The Starr Foundation
For further information contact Dong Kingman Jr.

Additional support provided by:
Loraine Jacobs
Kingman Arts and Education Fund


We wish to thank the following who contributed to the recent
"Dong Kingman: An American Master" exhibit 2001/2002: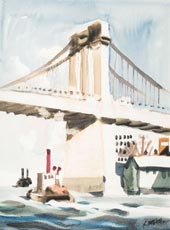 Major funding provided by:
The Starr Foundation

Additional support provided by:
The Washington State Historical Society
California Arts Council
Grants for the Arts of the San Francisco Hotel Tax Fund
Chinese Culture Foundation of San Francisco
Chinese Historical Society of America
Louisiana Division of the Arts
Arts Council of Greater Baton Rouge
DesignFormation
Universal Network Solutions
Cookie and Bent Christiansen
Marlene and Bruce Haney
Elaine and Dong Kingman, Jr.

Individual Contributors:
Kay Amsterdam
Richard Anthony
Susan Ayling
Winifred W. Barouch
Meryl Blumenthal
Alice & Jip Chun
Loretta Lum Dong
Gloria & Ralph Donnelly
Marvin & Anne Einhorn
Lily Fong
Dr. Gail Gallemore
Robert Greenboam &
Penny O'Prey
MuMing Guo
Thurman Hewitt
Laura Ho

Nancy Huang
Henri Kato
Lily Lew
Chung Long Lo
Charlene Loo
Jimmy & Mona Low
Iris Okun
David Phillips &
Ellen Zweig-Phillips
June & Helmut Sassenfeld
Jacob & Ludmila Semiatin
Ferol Smith
Mae Soong
Mira Stilwell
Pat & Barry Yellen
David E. Zerga


For further information, please contact: Dong Kingman, Jr. kingcom@att.net
Web Site design by Melissa Kingman with www.elevationda.com
Home | On the Road | About the Artist | Collections | Awards | Contributors
Copyright © 2000 Dong Kingman. All rights reserved.
Do not duplicate without express written permission.